A little more about Santa Ames...
Santa Ames has been entertaining the young and those young at heart in malls, homes and business across the United States including Iowa, Illinois, California, Nebraska, Florida and Washington for over a decade. He makes his summer home in Ames, Iowa where he is retired from a drug testing lab at Iowa State University.
Santa says..
Even though I've worn the suit for over a decade, it's been in my blood for a lot longer. I have an uncle who has put on the suit for many years but more importantly, my father was Santa for more than 30 years. While neither of these men have a real beard like I do, they were both very much Santa.
My father got started as the Santa at the country club where he was the chef. Over the years he visited the same 3 families each and every season before he finally retired and hung up the suit. I now have his suit.
I have had a beard of some sort since the 70's. Almost a decade ago, I was encouraged to think about becoming a Santa. So, I grew my beard longer, and the rest as they say is history...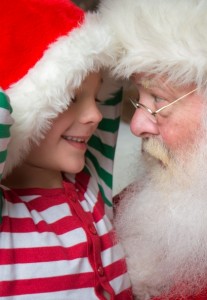 During the rest of the year I make my summer home in Ames, IA where I worked at Iowa State University in a drug testing lab (checking to see who has been naughty or nice). I am always ready to meet with the kids young and old and hand out candy and cards. Of course the kids always ask what I am doing in Iowa. I love telling them that I am working with the engineers at Iowa State in a super secret lab developing new toys for the elves to make.
I have attended several national conventions for Santas where workshops and classes are taught by fellow Santas and other professionals in the entertainment field. I am background checked every year including passing a FBI check for my job at Iowa State and am insured. Here's my Resume:
Malls
Redmond Town Center, Redmond, WA
Florida Mall, Orlando, FL
Oak View Mall, Omaha, NE
Del Amo Mall, Torrence, CA
North Grand Mall, Ames, IA
Media Stories
Omaha World Herald
Ames Tribune
Iowa State Daily
Torrence Breeze
ISU Faculty Newspaper
KCCI
Amestribune.com
Visits
Storytime at Border's Bookstore
ISU Reiman Gardens
Storytime at Ames Public Library
K-Mart
Various Nursing Homes & Senior Care Facilities
Funny Bone Comedy Club
Karl Chevrolet
International Brotherhood of Electrical Workers
and even a couple of weddings
Hy Vee Groceries
Oakridge Realtors
Reiman Gardens
Prairie Meadows Casino
Parades
Ames Fourth of July Parade
Boone Pufferbilly Days