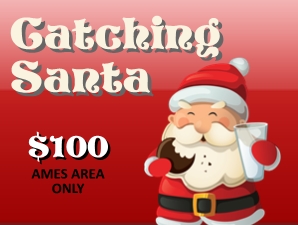 Catching Santa
Catch Santa making deliveries.
$100.00
Catching Santa Moment
Price $100 in the Ames area only
As much as I would like to make visits to everyone on Christmas Eve, it is just not possible. So how about the next best thing, "catching Santa making deliveries"
After you have your tree and house decorated and the presents bought and wrapped, we can make this happen. When the kids will be gone for a period of time, Santa will come by to set this up.
With your video camera in a static location, Santa will walk into the picture with his bag of toys as if no one is watching. He will place the presents under the tree, look around the room, play with the dog or cat if any, eat his cookies, drink his beverage, read any notes the kids leave and then make his departure.
Now as a parent, you will have to take some pictures of the above finished project so that all the presents are in the same place on the real Christmas Eve. Then on Christmas Eve, you tell the children you are going to set up the video camera to "try" and catch Santa. When the children wake up on Christmas morning, they will find that the camera was able to catch Santa. Watching the video might be best done after the presents are opened, just in case your extra observant child sees any differences in the presents.
This event can be made even more special by either bringing the child by to visit Santa in his sleigh on the last Tuesday in November and the first 3 in December. Watch the Ames People FB page or my (David Greulich) FB page for the times and location. For those who can't make it to the house on those days, a SKYPE call before Christmas could be arraigned. That way the childern will see the same Santa more than once.
For those that book a "catching Santa moment", I will throw in the SKYPE call before Christmas for free.