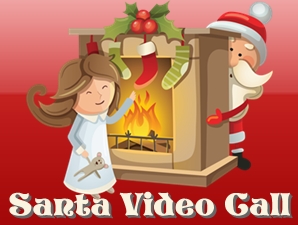 Santa Call
Video Call With Santa Via Skype, calls last 3 - 5 minutes.
$9.95
Video calls with Santa
Price $9.95 for a 3-5 minute Skype call
Make an appointment for Santa to call your child. It could be 3-5 minutes of absolute joy for your children to chat with Santa in a safe environment. For those shy children or those not quite ready to visit with Santa at a mall, it could be a way to "break the ice."
You will be asked to answer a few questions about your children after you place your order, so that Santa will know their names, ages and other things so he can carry on a meaningful conversation with them.
To get your child ready to talk with Santa, warm them up to the idea of how fun it would be if there was a way to talk to him. You can talk to them about Christmas, what they are thinking they would like (nothing worse than lots of dead air). There is a place on the questionnaire for you to tell Santa if you know something they might like. Usually if Santa knows already it is a great way to break the ice. And don't forget to have your camera ready to film the event.
Please click here to contact Santa after placing your order. Santa needs to know a little about your child to keep the conversation going.